The Kentucky Wildcats are one of the strongest college basketball teams in the SEC. The Kentucky Wildcats are also the most successful NCAA division I basketball program in history in terms of both all-time wins (2320) and many Kentucky players have played in the NBA. 
Kentucky Wildcats won many championships in the NCAA. They have many noticeable coaches from the very start that helped the organization to win multiple titles. First is Rupp and he retired in 1972. After Rupp they were taken by Joe B. Hall and won several more NCAA titles. There are also dark times that happened on Kentucky Wildcats when their former coach Sutton resigned because of some allegations to him. After that, Rick Pitino took over the Kentucky Wildcats and brought them into greatness again and won another title. After Rick Pitino, Tubby Smith took over and won some titles as well. On 2009 they landed their dream coach, John Calipari
For everything that happened on the Kentucky Wildcats, they still showed that they are the best team in the NCAA. They have the best coaches and players as well and they have many players that have been drafted in the NBA and became superstars. It just shows that the Kentucky Wildcats are very passionate in playing basketball and I think their daily routine and practice is outstanding.
Current Kentucky Players in NBA
There are many noticeable Kentucky players in the NBA. Before the NBA 2019-2020 started there were thirty-one former Kentucky players playing in the NBA right now.
Remarkable Kentucky Players in NBA
Let's take a look at some of the best current NBA players that were produced by the Kentucky Wildcats. They are not just outstanding in their college careers, but also they are making a big name for themselves currently in the NBA. If I missed some Kentucky players in the NBA, please let me know in the comments section.
1. Anthony Davis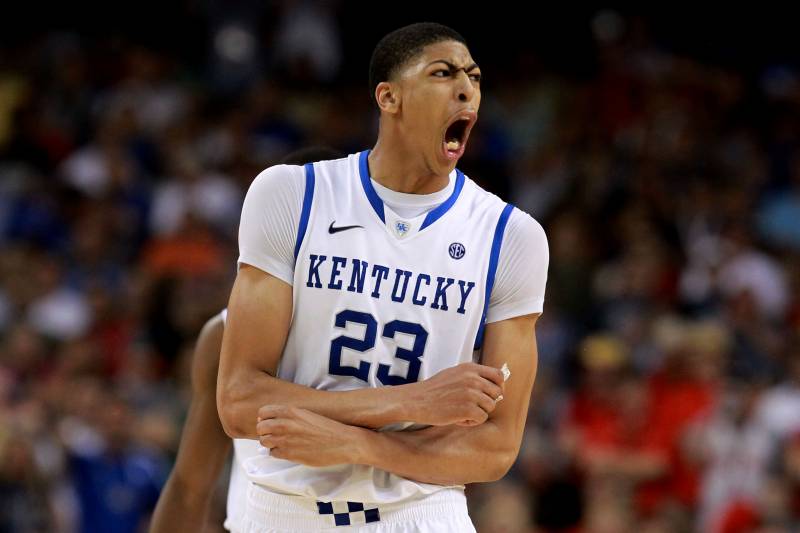 Years in Kentucky: 2011-2012
 Anthony Davis or "The Brow" played for Kentucky in the 2011-2012 season and Kentucky claimed that he is the best freshman center in Kentucky. He has also had a memorable season in the Kentucky Wildcats, leading his team to a 16-0 record in SEC and a 32-2 standing in over-all regular season record before heading into NCAA tournament and he also led his team and beat Kansas for their 8th title.
Anthony Davis is one of the most dominant players in the NBA right now, he averaged 26.7PPG with 51.1FG% and 9.4 rebounds this season. His current team is the Los Angeles Lakers and because of his outstanding game they are on the number one spot in the western conference. Davis outstanding plays did not stop after college and he brought that outstanding play in the NBA league until right now. 
2. Devin Booker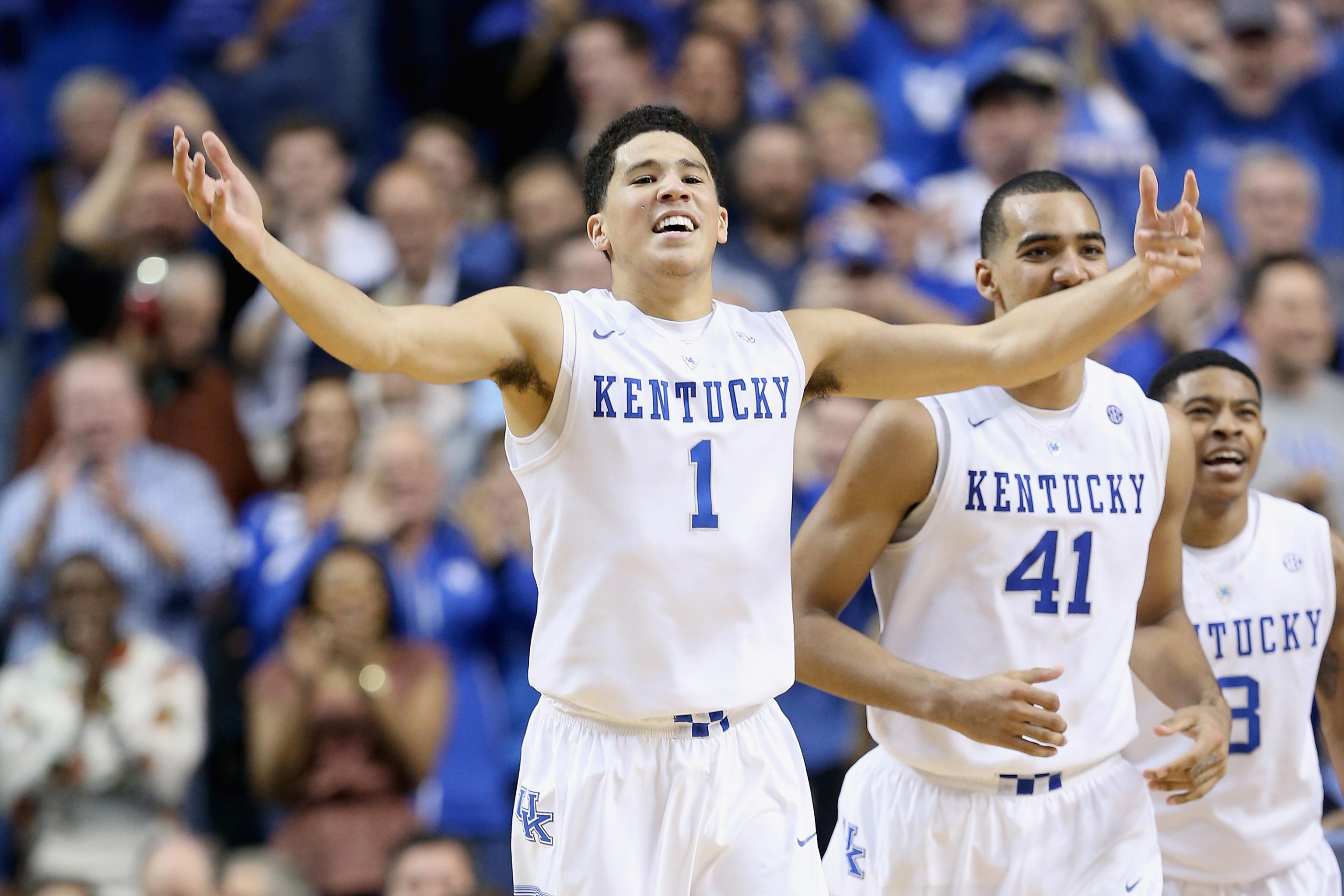 Years in Kentucky: 2014-2015
In his years in Kentucky, his most noticeable award is to become a SEC Sixth-man of the year, all SEC 2nd team. Despite his team Sun's losing streak, he still managed to score 20+ points per game, he averaged 22.3ppg and 44.7fg% in his career with the Phoenix Suns. He is still young and I think he can win a championship sooner or later and build his own franchise. 
3. Bam Adebayo
Years in Kentucky: 2016-2017 
Bam Adebayo was drafted by the Miami Heat in the last NBA 2017 Draft. He is one of the key players in the Miami Heat. After his rookie and sophomore season he really worked hard so that his 3rd season will be memorable. He managed to score 16.2ppg and 10.5 rebounds per game this season and he participated in the 2019-2020 All-star game.
Adebayo was a good player at Kentucky and this is the reason he was drafted in the NBA. The most noticeable thing that Adebayo made for Kentucky is he led the Kentucky 2017 team to the elite eight.
4. Rajon Rondo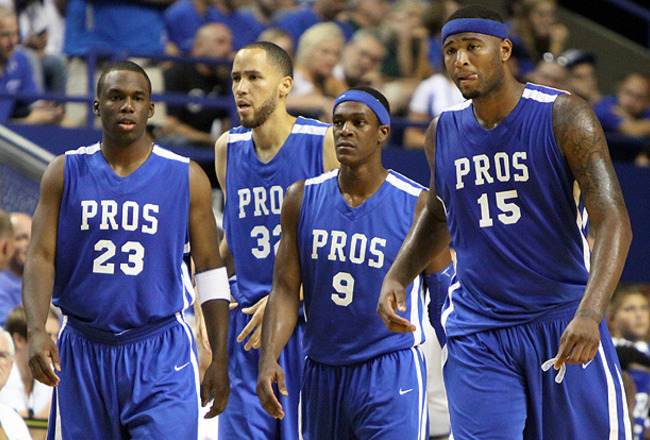 Years in Kentucky: 2004-2006
Rajon Rondo is one of the notable point guards in the NBA, although his college stats is not that good, he is still one of the best guards produced by Kentucky. He won an NBA championship with the Boston Celtics last 2008 with Ray Allen, Kevin Garnett and Paul Pierce.
His current team is the Los Angeles Lakers right now and I think he is a best fit for the L.A Lakers. His awards received from Kentucky is to get involved in  the list for 2004-2005 SEC All-Freshman. He was also the steal leader in the 2004-2005 SEC season with a total of 87 steals. 
5. Demarcus Cousins
Years in Kentucky: 2009-2010
Demarcus Cousins has many awards received from Kentucky. He was drafted by Sacramento Kings last 2010 NBA draft. Although his NBA career is not that acceptable, his Kentucky career was amazing.
He became the 2009-2010 SEC Rookie of the year, he was included in the 2009-2010 All-SEC 1st team and 2009-2010 All freshmen. He was waived by the Los Angeles Lakers and still hoping to fit into another team.
6. Karl Anthony Towns
Years in Kentucky: 2014-2015
Towns is one of the best center in the NBA and the score first mentality came from his coach Calipari. His freshman year in Kentucky was unusual because of his playing minutes. After Towns successful freshmen at Kentucky he was drafted in the NBA and he was selected 1st overall. During his time at Kentucky, the team broke a school record for total wins and after that he was drafted in the NBA.
He became the 2015 NBA rookie of the year, he was included in the All-NBA team and he has a 2-time All star appearance. His outstanding career stats are 22.7ppg and 11.8 rebounds per game.
List of Kentucky Players in NBA
Eric Bledsoe – Milwaukee Bucks
Devin Booker – Phoenix Suns
Bam Adebayo – Miami Heat
Willie Cauley-Stein – Sacramento Kings
DeMarcus Cousins – Golden State Warriors
Anthony Davis – New Orleans Pelicans
Hamidou Diallo – Oklahoma City Thunder
De'Aaron Fox – Sacramento Kings
Wenyen Gabriel- Sacramento Kings
John Wall – Washington Wizards
Andrew Harrison – Memphis Grizzlies
Shai Gilgeous-Alexander – Los Angeles Clippers
Michael Kidd-Gilchrist – Charlotte Hornets
Kevin Knox – New York Knicks
Skal Labissiere – Sacramento Kings
Julius Randle – New Orleans Pelicans
Rajon Rondo – Los Angeles Lakers
Karl-Anthony Towns – Minnesota Timberwolves
Tyler Ulis – Chicago Bulls*
Jarred Vanderbilt – Denver Nuggets
Isaiah Briscoe – Orlando Magic
Enes Kanter – New York Knicks
Brandon Knight – Houston Rockets
Trey Lyles – Denver Nuggets
Jodie Meeks – Milwaukee Bucks
Darius Miller – New Orleans Pelicans
Malik Monk – Charlotte Hornets
Jamal Murray – Denver Nuggets
Nerlens Noel – Oklahoma City Thunder
Patrick Patterson – Oklahoma City Thunder
Alex Poythress – Atlanta Hawks
Kentucky Wildcats is the supplier of the NBA when it comes to quality players. The Kentucky Wildcats have produced many star and role players that have played in the NBA. They also have great coaches that guided these young players to become a superstar in the NBA. The Kentucky Wildcats have great training equipment and they show that they really love basketball in the way they are training their players to become an NBA star. I hope we can see more Kentucky Players that will play in the NBA soon.